Dr. Jennifer Vriend provides psychological services to children, adolescents, and families. She offers psycho-educational assessments for children and adolescents with possible learning disabilities, Attention-Deficit/Hyperactivity Disorder (ADHD) as well as to evaluate gifted status. Additionally, Dr. Vriend provides individual therapy to children, youth, and families experiencing difficulties including anxiety, depression, low self-esteem, sleep problems, interpersonal challenges, parent-child relational conflict and adjustment to parental separation and divorce.
Dr. Vriend provides a warm, caring environment in order to build a collaborative relationship with children, youth and their families. Her therapeutic orientation may best be described as cognitive-behavioural (CBT), which involves understanding the relationships among thoughts, feelings, and behaviours. This approach not only helps youth to address current issues, but also increases their self-efficacy and empowers them with tools to overcome future challenges.
Professional Biography
Dr. Vriend completed her undergraduate degrees in Psychology (BSc Honours) and Biology (BSc) at Queen's University. She then spent a year working as a research assistant at the sleep laboratory at Brown University. Dr. Vriend received her PhD in Clinical Psychology from Dalhousie University. She has trained and worked in various hospitals, including the Children's Hospital of Eastern Ontario (Ottawa), Hotel Dieu Hospital (Kingston), the IWK Health Centre (Halifax), and Bradley Hospital (Providence, Rhode Island).
Dr. Vriend is a registered psychologist with the College of Psychologists of Ontario. In support of the profession, she maintains memberships in international, national, and local associations. Dr. Vriend is passionate about working with children and youth. She enjoys working with the media as well as giving community presentations on various topics, including anxiety, sleep, resilience, and parenting strategies. Dr. Vriend keeps up to date on current developments in the field by attending and providing educational lectures and attending conferences and workshops.
The Coping Toolbox Podcast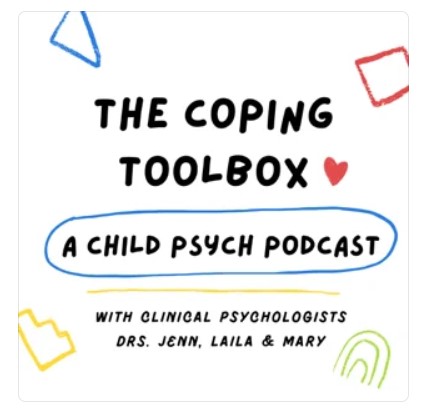 This is a podcast hosted by Canadian licensed Clinical Child and Adolescent Psychologists Drs. Jennifer Vriend, Laila Din Osmun, and Mary Simmering McDonald, C.Psych. Topics covered include a wide variety of subjects such as coping during COVID-19, dealing with child anxiety, sleep difficulties and parenting issues. Guest speakers will include other Child Psychologists across Canada.
Media Interviews
CP24 Television (Aired July 9, 2018)
CTV News Channel (Aired July 10, 2018)
Global News, The Morning Show (Aired July 19, 2018)
CTV Toronto (Aired September 2018)